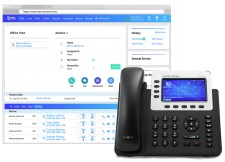 MARINA DEL REY, Calif., September 20, 2017 (Newswire.com) - ​​Once again, DYL joined the Inc. 5000 list of fastest growing companies in America. The Marina Del Rey-based telecommunications company leapt up 1605 places to land at #2051, logging 181 percent sales growth over the past three years.
"We're thrilled to not only be on the Inc. 5000 list, but to also have improved our growth rates from the prior year," said co-founder Matt Vandervort. Only one in three businesses who make the Inc. 5000 ever make the list a second time.
And based on this year's sales, DYL's growth isn't slowing anytime soon. "We've been adding staff in all of our departments," added Vandervort. "We want to make sure that our customers continue to receive the excellent service they've become accustomed to."
In the incredibly competitive landscape of telecommunications, DYL has carved out a unique niche, catering to businesses who want an all-in-one solution for their sales and customer service needs. DYL's business phone system integrates lead management, text messaging, and a telemarketing dialer into one easy-to-use platform. DYL also provides iPhone and Android apps for clients who want to run their offices while on the go.
DYL also continues to innovate and refine their product offering. In addition to a brand-new user interface, DYL is bringing complete one-click automation to their clients' marketing process. These "lead flows" will allow up to a year's worth of follow-ups with phone calls, pre-set text messages, and drip email campaigns.
"If you do business over the phone, DYL makes everything easier. We automate your manual tasks, so you can concentrate on what's important: making sales and servicing your customers," said co-founder James Angel. The popularity of DYL's platform has spread through numerous industries, including insurance, real estate, and financial services.
"We're very thankful to our customers, who have made all of this possible. No matter what award we receive, the goal is always the same: becoming the best business phone system on the planet," added Vandervort.
When asked for comment, DYL CEO Michael Frager said, "Well, I just sat around a lot and didn't do much work. Heck, who am I kidding, I did no work. I'm just kinda lucky like that." Then he went to fly his drone.
Contact: Kris Sharma, 310-421-4315
To learn more: www.dyl.com
Source: DYL
Share: