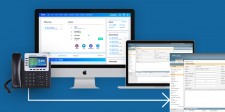 DYL's Cloud Phone System Connects Directly To AMS360.
Marina Del Rey, CA, August 17, 2017 (Newswire.com) - DYL, an all-in-one phone platform with sales automation, announced their integration with Vertafore, one of the most popular insurance CRMs, today. The integration allows insurance agents to seamlessly transfer records between their phone system and Vertafore.
"Our integration with Vertafore will streamline operations for thousands of insurance agents across the country. We realize the importance of automation in the sales process---now we're bringing that automation to agency management, as well," said co-founder Matt Vandervort.
One of the most exciting features is the "screen pop", which will automatically load a customer's Vertafore record when the agent answers an incoming call. Instead of spending minutes searching for the customer's account, the agent will instantly have that information on their desktop. This feature alone will save agents hours of busywork per week.
DYL includes unlimited call recording and tracking with every phone plan---automatically syncing call recordings with Vertafore customer records. Rather than having to manually search for individual call records, users will have that information at their fingertips.
DYL customers can also post a note in DYL's lead manager and have that note simultaneously populate in the Vertafore customer record. "By reducing the agent's busy work and increasing efficiency, this integration will allow insurance agents to focus on what they do best: write policies and provide excellent service for their customers," added co-founder James Angel.
Contact:
Kris Sharma
DYL.com
310-421-4315
DYL is a cloud-based phone system with built-in sales automation and text messaging. One of Inc. 5000's fastest growing companies, DYL has become a trusted provider for thousands of businesses in numerous industries. DYL was founded in 2009 and is headquartered in Marina Del Rey, California.
For more information: http://dyl.com/landing/dyl-vertafore-integration
Source: DYL
Share: