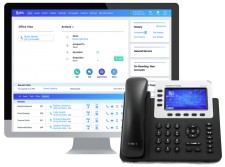 DYL, an Inc. 5000 telecommunications company, takes 'intelligent calling' to a new level
MARINA DEL REY, Calif., February 6, 2018 (Newswire.com) - Businesses using basic phone service often face significant challenges when servicing their customers. Long hold times, customer dissatisfaction and inefficient service are just a few of the problems businesses face when trying to connect multiple departments in one phone system.
DYL, an Inc. 5000 telecommunications company, aims to eliminate all three of these problems with their exciting new update - Caller-ID Routing. This feature takes "intelligent calling" to a new level, connecting callers to the right destination, every time.
"Caller-ID Routing will allow customers to route their calls instantly to the right department, no matter what number they dial. You can have a client route directly to their assigned sales rep, even if the client is calling the main number. Or you can send VIP customers directly to an account manager for personalized customer service," said co-founder Matt Vandervort.
This type of flexibility is a hallmark of DYL's phone platform. By combining a cloud-based phone system with sales automation, businesses can customize their workflow to suit their specific needs. In the crowded field of telecommunications, the Marina Del Rey-based company has carved out a unique niche as an all-in-one business solution.
"We want our phone system to take the grunt work out of your day-to-day activities, whether it's allowing you to work from anywhere with our Virtual Office or automating your sales and customer service processes. Other companies just provide phone service - they're commodities, essentially. DYL is here to make your business better," said co-founder James Angel.
The most exciting application of this feature is the elimination of "spam" and telemarketing calls. "With Caller-ID Routing, I can send annoying telemarketers to their own voicemail box. Once we set it up, we never have to deal with spam calls again," remarked Desha Greene, DYL's head of client services.
To get a demo of the DYL system, visit http://dyl.com/features/caller-id-routing.
DYL is a cloud-based phone system with built-in sales automation and text messaging. One of Inc. 5000's fastest-growing companies, DYL has become a trusted provider for thousands of businesses in numerous industries. DYL was founded in 2009 and is headquartered in Marina Del Rey, California.
For more information:
Kris Sharma​
310-421-4315
Source: DYL
Share: